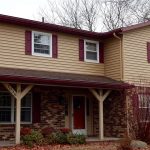 Location: 1838 Norfolk Drive, Stevensville MI 49127
Products Installed: CertainTeed Monogram Lifetime Warranty Vinyl Siding, Aluminum Vented Soffit & Fascia, Seamless Gutters & Downspouts with Gutter Topper Gutter Guards
As siding contractors in Stevensville Michigan were hired to enhance the beauty of this home in Stevensville Michigan and to make the exterior maintenance free.
The existing aluminum siding, soffit, fascia and gutters were removed and taken to the recycling center. The subsurface was prepped to make sure that our installation of new vinyl siding would meet the manufacturers proper specifications.
We first applied our Heat Deflector Insulation, which is technically an insulated radiant barrier. This exclusive product deflects 97% of the heat depending upon which side of the deflector the heat is originating from. As an example, in the winter when you are heating your home the heat that radiates through your walls the Heat Deflector deflects 97% of the heat back into the home and during the warm months when a homeowner would typically run their air conditioner the Heat Deflector deflects 97% of the heat outside. This situation saves the homeowner energy with a reduction in heating and cooling costs and thereby reducing utility bills. The Heat Deflector has compressed foam insulation between the two sheets of Heat Deflector and has a 15.67 R value however, when combined with the two sheets of Heat Deflector it is the equivalent of an R-30 while our competitors use simple foam that only has a 2 to 3 R value at best.
We wrapped in white aluminum any exposed trim around any windows and doors including the garage door and a beam on the front porch. In addition, we installed 2 ½" vinyl window and door casings around all windows and doors. The casings are maintenance free and unlike aluminum will not fade, peal or chalk and come with a lifetime warranty.
We applied CertainTeed's Buckskin colored Monogram Double 5" lifetime warranty vinyl siding. CertainTeed's Monogram siding is rated as a best-buy by a leading consumer rating magazine based on its high quality and affordable price. The panel has ¾" projection and has a thickness of .046 inch with a CertiLock post-formed positive locking system with a Studfinder system to ensure that all fasteners are drive into a stud. The panel lies flat and clean and cuts cleanly due to its unique thickness.
Many lazy contractors apply aluminum cladding around windows and doors however, at Dennison Exterior Solutions we if the trim is white we encourage our customers to have us install 2 ½" white window and door casings to that the exterior trim is truly not only maintenance free but also will not fade, chalk or dent. As another offering CertainTeed make a 3 inch wide lineal that comes in many different colors and also comes with a lifetime warranty.
As vinyl siding contractors in Stevensville Michigan we also cut open the overhang soffit area in order to allow as much air as possible to enter into and circulate through the attic area helping to increase the lifetime of the roofs shingles and reduce cooling costs during the warm months. The aluminum soffit and fascia will also protect the home from water infiltration and prohibit any future painting.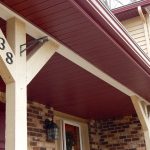 Dennison Exterior Solutions & Gutter Topper as seamless gutter contractors in Stevensville Michigan we also brought our seamless gutter machine to the home/job site and installed new gutters and downspout to match the color of the aluminum soffit and fascia. We use .027-thickness aluminum coil from Michigan Aluminum who also manufactures the downspout, elbows, inside and outside miters here in Michigan. We also use their 5-inch inside supreme gutter hanger spaced every 18 inches on center driven in through the aluminum and wood facia directly into the rafter tails for maximum strength.
At Dennison Exterior Solutions & Gutter Topper we are also gutter guard contractors in Stevensville Michigan as well. As the exclusive Dealer for Gutter Topper in the western Michigan and northern Indiana area our top of the line Gutter Topper gutter covers includes a lifetime transferable maintenance free warranty. The Gutter Topper product was specifically engineered to be customized on-site to match the pitch of your roof and not harm your roofs warranty. The Gutter Topper gutter guards were also engineered with a trademarked Ice Release system which not only helps defeat ice dams but also assists the movement of the ice and snow off the roof at a much faster pace helping to increase the lifetime of your roof. The Gutter Topper also includes our unique BirdGuard system that prohibits birds and other pests from nesting inside your gutter system. And finally, on this home we concluded our project by matching the Burnt Sienna roofing shingles by installing Royal Brown Gutter Topper.