Location: 1758 Hacienda Stevensville Michigan 49127
Products Installed: White Aluminum Vented Soffit, White Aluminum Fascia and White Seamless Aluminum Gutters
Dennison Exterior Solutions & Gutter Toppers soffit and fascia contractors in Stevensville Michigan were asked by the homeowners to remove the old spike and ferrule gutter system and install new white aluminum vented soffit, white aluminum fascia and white aluminum seamless gutters and downspouts in order to help make the home maintenance free and provide for proper water flow control off the roof.
Knowing that Dennison Exterior Solutions as roofing contractors in Stevensville Michigan and experts in proper attic ventilation we would understand the dramatic affect proper ventilation would have on extending the life of their roofs shingles and help reducing the damaging effects of ice dams during the harsh Michigan winters.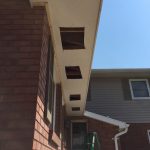 As members of the Professional Roofers Advisory Council we know that proper ventilation consists of intake at the eave edges of your home and exhaust typically ridge vents. Not all ridge vents work by the way. The only ridge vents that work are those that have an external baffle that creates negative pressure above the vent which pulls cooler dryer air in through the intake vents under the eave edges or your home, circulates through the attic and exhausts through the ridge vent. This process reduces cooling costs inside your home by keeping the heat inside your attic to a minimum. This process also helps stop the moisture buildup inside the attic in the winter, which causes moisture to condense on the roofs sheathing which warps the wood, and the moisture then falls onto the insulation matting it and reducing its R-value.
Dennison Exterior Solutions as seamless gutter contractors in Stevensville Michigan brought our seamless K-style gutter machine to the home to run-out the seamless gutters to this homes specifications in order to properly control the rain water drainage off the roof and out onto the ground and away from the homes foundation.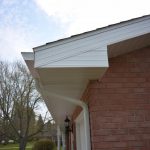 At Dennison Exterior Solutions & Gutter Toppers we only use the Aluminum five-inch K-Style Quick Screw inside gutter hangers. Each bracket includes a special number twelve-deck screw, which is twenty five percent heavier than standard hangers. This hanger allows us to find the rafter-tails to ensure the fasteners is entirely fastened through wood – into and through the aluminum fascia (if any), through the wood fascia and into the rafter-tails unlike our competitors who's are known to drive deck screws with their flimsy hangers through the wood fascia and into the open space behind the fascia board creating a situation where the heavy weight of snow and ice that piles up inside the gutters in the winter to pull your gutters loose and in some cases off the roofs edges.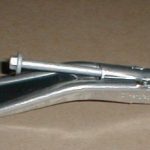 When sealing our seamless gutters we use Geocel Gutter Sealant that has a superior ultraviolet resistance, which can be applied in any temperature, is paintable and has a 50-year service life.
At Dennison Exterior Solutions & Gutter Toppers our seamless gutter installers give attention to detail to ensure your long-term satisfaction.