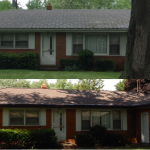 Location: 1659 North Teakwood Drive, Stevensville MI 49127
Products Installed: CertainTeed LandMark Pro Heather Blend Shingles, Winter Guard Ice & Water Shield, Diamond Deck Synthetic Felt, AirVents Hip & Ridge Vent, Aluminum Soffit & Fascia, Seamless Gutters & Gutter Topper
As roofing contractors in Stevensville Michigan this project included the removal of three layers of existing shingles down to the roof deck. We replaced some bad wood and corrected the placement of the insulation inside the attic to ensure proper intake airflow. We installed CertainTeed's Winter Guard ice and water shield six feet up the eave edge, which exceeded code by almost four feet. We also installed the ice and water shield around all protrusions through the roof such as around the chimney and all soil pipes. The roofing part of the project was completed in less than two days.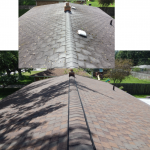 As siding contractors in Stevensville Michigan on the third day of the project our siding crew arrived and cut out a one foot slot out of the center of the wood soffit in order to allow cooler dryer air to enter in to the attic as it is drawn up into the attic by AirVents Shingle Vent II ridge vent which creates the Bernoulli effect which pumps the cool air into the attic from the intake vent which then circulates through the attic and push's the moist hot air out through the ridge. We installed aluminum soffit and fascia to close off the wood surfaces and make them maintenance free.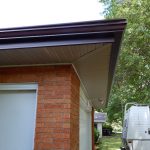 As seamless gutter contractors in Stevensville Michigan our gutter crew then installed seamless gutters and downspouts around the entire home. We use factory made outside/inside miters and 20-year clear Geocel sealant.
As gutter guard contractors in Stevensville Michigan our Gutter Topper crew installed the Gutter Topper gutter protection system to not only keep debris out of the gutters and keep them free-flowing but to also allow the movement of ice and snow off the roof at a much faster pace.