Location: 5629 Alpine Ridge, Stevensville MI 49127
Products Installed:
Shingles: CertainTeed LandMark Pro – Color: Moire Black, Lifetime limited transferable warranty, 15year StreakFighter warranty against streaking and discoloration caused by airborne algae, 15 year 110 mph wind-resistance warranty, 250 lbs. per square.
Siding: CertainTeed Monogram 46 Double 4" vinyl siding – Color Cypress, Lifetime limited transferable warranty. Aluminum Soffit and Fascia – Color Cypress.
Ventilation: AirVents Shingle Vent II Ridge Vent
As roofing contractors in Stevensville Michigan we safely removed the old existing roofing material while protecting the homes walls, windows and doors by placing sheathing and tarps in strategic locations, which made clean up very efficient. We removed one unused vent pipe by cutting it below the roofline and decking over it as well as removing all of the old square static vents on the roof.
Six feet of CertainTeed's Winter Guard ice and water shield was installed at all eave edges including all valleys and around all soil pipes, electrical pipes, satellites and chimneys. A small cricket/saddle was installed behind the chimney in order to allow water, snow and ice to move around the chimney and drain down the roof. A new flashing kit was install on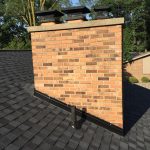 to the chimney. New pipe boots were installed over/around all vent pipes on the roof. CertainTeed's Diamond Deck synthetic felt was installed on the balance of the roof deck before the installation of the LandMark Pro shingles.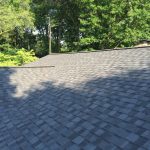 As siding contractors in Stevensville Michigan We installed CertainTeed's Monogram 46 Double 4" vinyl siding in the all the gable of the home as well as installing fully vented aluminum soffit to help maximize air intake into the attic along with aluminum fascia.
As seamless gutter contractors in Stevensville Michigan the homeowners existing seamless gutter system was in good shape so we tuned up the existing gutters by repitching the gutters
to ensure the water flow towards all downspouts, tightened up all hangers as well as sealing up all seams with 20-year Geocel clear sealant. We installed the aluminum fascia behind the existing gutter system while the gutters were loose.
As gutter guard contractors in Stevensville Michigan several years ago we had installed the Gutter Topper gutter protection system. As required by the manufacturer we removed the
Gutter Topper prior to the removal of the old roof and the installation of the new roof. Our certified installers who also performed the siding work as previously stated tuned up the gutter system before we reinstalled the Gutter Topper gutter guard system.