Location: 17711 Bryan Street, South Bend IN 46635
Products Installed: Seamless Gutters & Downspout with Gutter Topper
As seamless gutter contractors in South Bend Indiana this homeowner was looking for a gutter guard product that could be installed over new seamless gutters and not harm the warranty on his new metal roof.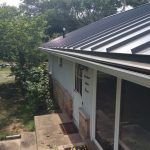 As gutter guard contractors in South Bend Indiana Dennison Exterior Solutions is the local Dealer for the unique Gutter Topper product that can be customized at the jobsite to accommodate pitched shingled, metal, slate, tile and flat roof applications.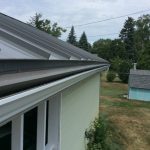 We removed the old gutters and hauled them away and brought our seamless gutter machine to the home and formed the new seamless gutters to this homes specifications and installing new downspouts in strategic locations in order to properly drain the water away from the homes foundation.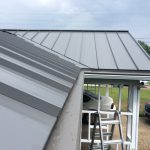 With this homes standing seam metal roof we customized the Gutter Topper to fit the new seamless gutters and not interfere with the metal roof nor harm its warranty.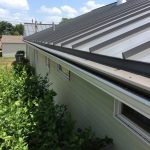 While there are many gutter guard systems on the market today only Gutter Topper passed independent tests for debris infiltration, torrential rain flow (22" per hour), hurricane force winds (110mph), handle the heavy weight of ice and snow (1,200 lbs. per square foot) and be rated the number one solid metal gutter guard on the market today by a leading consumer testing magazine.
Gutter Topper is a permanent solution to having to constantly climb dangerous rickety old ladders putting your health at risk to keep you gutters clean.
Every year, over 100,000 homeowners fall from ladders and are seriously injured. Many fall from heights as low as 10 feet and spend an average of $4,000 on hospital co-pays, prescription drugs, lost wages, and physical therapy. *
Ask yourself, is it worth the risk?
* Gutter Topper costs less than this to install on an average single-story home
* There could be additional long-term health effects resulting from the fall
Safety is one of the smartest reasons for installing Gutter Topper on your home.
*Statistics from: Consumer Protection Agency and OSHA
Besides protecting you from climbing a ladder to clean out your gutters year after year, Gutter Topper protects your property by eliminating clogged gutters.
* Helps stop gutter overflows that could damage landscaping, walls foundation, and basement
* Keeps birds and pests from nesting in gutters
* Helps protect against harmful mold, mildew and rot
All this protection is enhanced by the value and curb appeal that Gutter Topper adds to your home:
* Custom fit and attractive design
* Attached to your gutters and house, it strengthens your existing gutters
* Available in 13 standard colors and genuine 16 oz. copper
* Low-profile that blends into the roofline
* No unsightly mounting brackets or hangers