Location: 3156 Estates Court, Saint Joseph MI 49085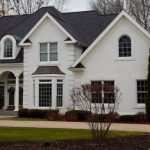 Products Installed: CertainTeed LandMark Pro Moire Black Lifetime Warranty Shingles, Seamless Aluminum Gutters & Downspout with the Gutter Topper Gutter Guard system
As roofing contractors in Saint Joseph Michigan provided with the opportunity to update and upgrade the roofing system on this beautiful home located the Estates neighborhood in Saint Joseph Michigan.
We removed and tore-off all original roofing material down to the roof deck and inspected the roof deck and replaced some bad wood that had deteriorated at the eave edges due to ice build up inside the open gutters.
We installed CertainTeed's Winter Guard Ice and Water shield on the first six feet of all eave edges to protect the home from and wind driven rain or ice buildup at the eave edges. In addition, we applied the Winter Guard around all soil pipes, chimneys and anywhere where a lower roof met a wall. This method ends all future service calls.
On the balance of the roof we installed CertainTeed's Diamond Deck synthetic felt, which is a water resistant underlayment. It has exceptional dimensional stability compared to standard felt paper underlayment, which can wrinkle when it becomes wet, and telegraphs those wrinkles through to the shingles applied over it. Diamond Deck eliminates this problem and its special top surface treatment provides excellent slip resistance for our workers while walking on the product if there happens to be any moisture present. The combination of the Winter Guard and Diamond Deck ensures a watertight system during the roofing process before the new shingles are installed.
As is typical of homes that have more hip and less ridge we were required to install both hip and ridge vent in order to validate the new shingles warranty. Proper intake and exhaust venting is now required by most shingle manufacturer's. This as almost every home requires an updated ventilation system. The sad fact is that almost all roofers fail to do so leaving homeowners without a warranty even though they paid for one not to mention most roofing contractors also fail to even register their customers new shingle warranty. At Dennison Exterior Solutions & Gutter Toppers you can rest assured that this will not happen with us.
CertainTeed's LandMark Pro shingle has an enhanced granule mixture creating a brighter, vibrant, more dramatic appearance and depth of color than what our competitors install. The LandMark Pro shingle includes a 15-year algae resistance warranty as well as a 15 year 110 mph wind resistance warranty. Due to our certifications you'll also receive a 50-year SureStart warranty, which includes 100 percent labor and material, no prorating during the fifty years and is completely transferable if you sell your home to the new homeowner. The LandMark Pro is a beautiful shingle that allows you to also differentiate your roofs color from surrounding homes that may have a similar non-enhanced shingle installed.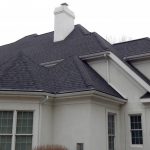 Upon completion of the roof as seamless gutter contractors in Saint Joseph Michigan we brought our gutter machine to the customers home in order to customize their gutter system to meet the homes needs for proper water drainage management.
As gutter guard contractors in Saint Joseph Michigan we installed the Gutter Topper gutter guards in order to complete the project and to ensure that the customized seamless gutter system would remain free flowing no matter what Mother Nature throws at it.