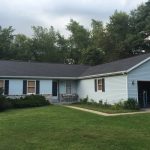 Location: 1401 Miners Road, Saint Joseph MI 49085
Products Installed: CertainTeed LandMark Pro Moire Black Shingles, Winter Guard Ice & Water Shield, Diamond Deck Synthetic Felt and 12" Filtered/External Baffled Ridge Vent
As roofing contractors in Saint Joseph Michigan this homeowner was referred to us, as their roof was overdue for replacement. There was no evidence of any past leaks but however, it was obvious someone in the past had performed some basic maintenance around the roofs vents.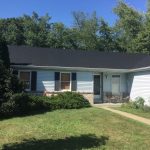 As is typical with most roofs in the area there is a drastic lack of ventilation. Proper ventilation is important because it validates the new shingles warranty but also reduces energy consumption, prolongs the life of the new roof and protects against damage to materials, structure and interior furnishings by reducing the damaging effects of ice dams.
As you can see from the photos heat buildup in the attic from a lack of proper ventilation has caused the 3-tab (3-in-1) shingles to curl, crack and loose their granules. Square or round static vents on a homes roof typically only provide exhaust venting in a 4 foot to 8 foot around each vent and do not uniformly ventilate the entire underside of the roof deck.
This homes roof only had one layer of shingles and while it did qualify for an additional layer of shingles to be applied over the existing layer the homeowner followed our advice and agreed to allow us to perform a tear-off and apply a new roof.
After the removal of the old roofing material we cleaned and prepped the roof deck for the installation of CertainTeed's Winter Guard ice and water shield which is a water-proofing underlayment that is applied under the roof shingles to protect your home's interior from winter leaks caused by ice dams and wind driven rain. We applied ice and water shield to the first six feet of each eave edge, up each valley and around every protrusion through the roof including under the satellite dish.
On the balance of the roof we applied CertainTeed's Diamond Deck synthetic felt. Diamond Deck is a high performance synthetic underlayment that is applied to the balance of the roof deck where the ice and water shield is not. This best-in-class underlayment provides superior weather protection and contractor safety. The synthetic underlayment is scrim-reinforced, water-resistant and does not absorb moisture and wrinkle when it becomes wet and "telegraph" those wrinkles through to the shingles applied over it.
We then applied CertainTeed's LandMark Pro Moire Black shingles which contain a much richer blend of granules to provide your home with a more vibrant, more dramatic appearance and depth of color when compared to a neighbors roof with a similar color shingle.
The LandMark Pro shingle along with our Dennison Exterior Solutions & Gutter Toppers roofing credentials includes our 4-Star 50 Year SureStart 100% labor and material warranty that includes no prorating and is transferable if you sell the home. The LandMark Pro shingles also include a 15-year algae resistance and 110mph wind warranty. As roofing contractors in Saint Joseph Michigan our customers also enjoy our 5 year preventative maintenance warranty whereby our certified installers will inspect your roof in the month October for the first five years in order to give you the peace-of-mind to know that your roof is in-fact ready for whatever old-man Winter can throw at it.
We completed this project by installing CertainTeed's external baffled ridge vent, which creates the Bernoulli principle of negative pressure above the vent, which pulls cooler dryer air in through your roofs soffit vents. Circulates that air uniformly through the attic and pumps that moist hot air out reducing the attics temperature and saving you energy through lower utility bills.