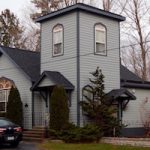 Location: 13779 Prairie Road Harbert MI 49115
Products Installed: CertainTeed LandMark Pro Moire Black Lifetime Warranty Shingles, Aluminum Lifetime Warranty Soffit & Fascia, Aluminum Seamless Gutters & Downspouts and Gutter Topper with a Lifetime Transferable Maintenance Warranty
This unique 100 plus years old beautiful home located in Harbert Michigan just south of Sawyer Michigan originally was a church that has been converted into a home. As roofing contractors in Harbert Michigan we were tasked with making the home maintenance free from the eave edges on up in order to not only enhance the beauty of the home but to also protect it from the harsh elements that mother nature could throw at it.
We met and interviewed the homeowner wherein we discussed the history the home specifically focusing in on any weather related concerns that could be resolved during the construction process as well as a thorough discussion on the goals of the homeowner so that those goals could be met upon completion of the project. After our brief interview we inspected that attic to determine it's existing ventilation and to allow us to determine if it needed to be updated in order to save the homeowner financially by saving energy over the long term and thereby increasing the life of the new roof as well as validating the new roofs warranty. In addition, we also performed our normal exterior inspection included the exterior attic ventilation situation and determined that there were no intake vents installed.
We moved our inspection to the existing gutter system to determine its history of battling ice dams, clogs, rain and wind in order to determine if the drainage system needed to be modified to change where the flow of water drained out into the yard and away from high traveled areas around the home and most importantly away from the foundation of the home.
And finally, to complete our inspection unlike many of our lazy competitors who do not get on the roof to inspect the existing structure we walked the entire roof to determine where the wear and tare was the worst and to inspect where the pitched roof meets adjacent walls and the somewhat recently installed skylights.
Our second appointment includes a thorough review of the installation process as well as a detailed review of the proposal that includes a choice of up to 4 different shingles in 4 different cost categories.