Location: 17924 Fox Den Drive, Granger, IN 46530
Products Installed: Aluminum All-Vented White Soffit, Aluminum Fascia, Seamless Aluminum Gutters and Downspouts and Gutter Topper Gutter Guards
As siding contractors in Granger Indiana the homeowner contacted not only after seeing our ad in the Granger Gazette community monthly publication but also based on our industry high rating from Angieslist.com customers. We were asked to inspect and provide the homeowner their options of not only minimizing the need to paint the exposed fascia and soffit wood but to also install a water drainage system that would be able to ensure that there would no longer be any need to climb dangerous ladders to keep the gutter clean.
As siding contractors in Granger Indiana and also roofing contractors in Granger Indiana as well we understood the requirement of roofing manufacturers of proper ventilation which is why we recommended that we install all-vented soffit panel on the entire home for a beautiful uniform look and only cut open the eave edge soffit in order to create the proper intake venting a future ridge vent with an external baffle would require once the roof would be replaced. We also custom bent and install aluminum fascia so that once our gutter system was installed there would be no chance for water to reach the wood once our seamless gutter system was installed.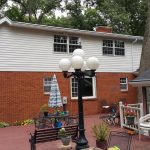 As seamless gutter contractors in Granger Indiana we bring our seamless gutter machine to your home and customer bend our seamless gutters to match the specifications of your roof and fascia. This eliminates all seams between and the corners and ends of each run of gutter. With over 40 years of experience our seamless gutter installers are committed to customer satisfaction.
As seamless gutter contractors we provide our customers with Gutter Services in Granger Indiana over 30 color options as well. We recommend matching the gutter to the color of your aluminum or wood fascia however, you may choose to use color as a transition to move from a darker colored roof to the lighter color of your walls of your home or the gutter and fascia can be a separate color that matches the trim around your windows and doors.
As seamless gutter contractors in Granger Indiana unlike our competitors who take short cuts and do not punch proper outlet holes for your downspouts in order to attach the downspout tubes they simply cut an "X" in the bottom of the aluminum gutter and pull the aluminum shards down and attach the downspout tubes. While you cannot tell that they have done so from the ground in a year or two or after high winds the downspouts will become loose and many fall off. We know as many of our competitors fail to honor their warranties and we are hired to go behind them and correct their short cuts.
As gutter guard contractors in Granger Indiana we completed this project by installing Charcoal Gutter Topper gutter guards that matched the roof in color so as to blend in and not look like someone painted a white strip on the roofs edge.
Gutter Topper gutter protection and leaf guards have been rated by a leading consumer testing magazine as the number one solid metal gutter cover on the market today. While many homeowners are skeptical that any gutter guards will work Gutter Topper gutter guards are the only system on the market today that has pass not one but two independent tests. So, if you are looking for the peace of mind of no longer having to have you or your loved ones climbing rickety old ladders and ending up with cut fingers and sludge under the finger nails then Gutter Topper can and will put and end to that spring and fall dangerous, difficult and dirty chore.