Location: 9648 Painter School Road, Berrien Center MI 49102
Products Installed: LandMark Heather Blend Lifetime Warranty Shingle with a 20 Year 100% Labor & Material SureStart Warranty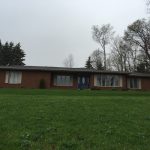 Dennison Exterior Solutions as gutter guard contractors in Berrien Center Michigan removed and saved the customers existing gutter covers to protect the products lifetime warranty.
Dennison Exterior Solutions as roofing contractors in Berrien Center Michigan prepped the home for the removal of the existing old roofing material by placing tarps around the home along with leaning sheathing up against the walls in order to protect the landscaping, walls, doors, windows and decks around the exterior of the home.
As is typical with all roofs in order to validate the new shingles warranty this hip and ridge home required that in addition to installing ridge vents we were also required to install hip vents as well in order to create the necessary airflow from the soffit vents to the hip and ridge vents. We determined that this venting was required by taking the proper measurements to determine the Net Free Area (NFA) required to validate the new shingles warranty.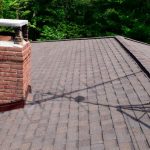 As roofing contractors in Berrien Center Michigan Dennison Exterior Solutions specializes in the installation of Lifetime Warranty (50 Year Warranty) Shingles that includes a 20 Year of 50 Year 100% Transferable Labor & Material Warranty backed by CertainTeed without any Prorating during the life of the shingles.
The Benefits of the Dennison Exterior Solutions & CertainTeed Integrity Roof System
A quality roofing system involves the underlayments, shingles, accessory products, and ventilation all working together. Day after day, year after year.
 At Dennison Exterior Solutions & CertainTeed, we call that the Integrity Roof System
The Integrity Roof System is designed to provide optimum performance — no matter how bad weather conditions are. After all, better quality shingles mean longer-lasting roofs. Add in underlayment and accessory products, and you've got a roof system that really works.
When you choose a Dennison Exterior Solutions Integrity Roof System you gain the advantage of having CertainTeed as your single manufacturing source to stand behind its roof system components.
Dennison Exterior Solutions Shingles:
Most of Dennison Exterior Solutions customers choose the LandMark Pro Shingles which were Engineered to outperform ordinary roofing shingles in every category, Landmark PRO boasts the rich hues and stunning dimensionality of CertainTeed's Max Def color technology. Good looks aside, this dimensional laminate shingle is built to last, with two layers of high-quality roofing asphalt and an industry leading lifetime limited transferrable warranty.
Replicate the appearance of cedar shake roofing, with the added flexibility of a colorful palette to choose from
Fifteen year StreakFighter® algae-resistance warranty
Enhanced warranty available when installed by Dennison Exterior Solutions which is a CertainTeed credentialed contractor
110mph Wind Resistance warranty
Underlayments:
Dennison Exterior Solutions Winter Guard Ice & Water Shield
Dennison Exterior Solutions & CertainTeed's WinterGuard waterproofing shingle underlayment is the solution for winning the battle against water penetration in your roof's most vulnerable places. WinterGuard is a composite material of asphalt polymers, formed into a rolled sheet. The asphalt makes it vapor-tight, and the polymers make the asphalt elastic and sticky. This protective barrier is able to stretch and seal around nails driven through it. Placing WinterGuard a minimum of 24″ past the interior wall line at the eave provides your first line of defense.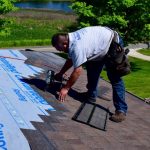 Dennison Exterior Solutions installs Winter Guard six feet up the roofline from all eave edges, where all lower roofs meet any walls and around all roof ' shingle penetrations such as furnace / water heater vent stacks, soil pipes, chimneys, antenna satellite fasteners, skylights and any other protrusions through the roof. This process eliminates all potential future call-backs.
Dennison's Winter Guard seals the roof against infiltration of water into the home due to ice dams and wind-driven rain that also seals water-tight around each nail that is driven through it. The sand surface of Winter Guard also provides a huge safety factor for installers while walking on top of the shield.
Dennison Exterior Solutions & CertainTeed's Diamond Deck Synthetic Felt
Dennison Exterior Solutions & CertainTeed's Diamond Deck high performance synthetic felt is applied to the entire roof surface that is not already covered the the Winter Guard ice and water shield. This Best-in-Class underlayments performance in terms of both weather protection and contractor safety is unsurpassed.
Diamond Deck has exceptional dimensional stability compared to standard 15lb or 30lb felt underlayment which can wrinkle when it becomes wet and "telegraph" those wrinkles through to the shingles applied over it detracting from the beauty of your homes new shingles. Diamond Deck eliminates this problem and it special top surface treatment provide excellent slip resistance, even when wet for contractor safety.
Dennison Exterior Solutions as roofing contractors in Berrien Center Michigan installed the standard LandMark shingles with a lifetime warranty (50 Years) that also included a 20 Year 100 percent labor and Material warranty. The LandMark shingle weighs 240 pounds per one hundred square feet and includes a ten year algae resistance warranty that CertainTeed call a StreakFighter warranty in addition to the 15 year wind resistance warranty.
If you want the peace of mind in knowing your roof that protects everything that you own was installed properly to validate the warranty and want the "A" Angieslist rating and 5 Star rating our customers consistently rate our company please don't hesitate to give us a call.