If you are in need of roofing, soffit & fascia, insulation or gutter services at your home in Stevensville, Michigan, there is only one name you need to know: Dennison Exterior Solutions & Gutter Toppers.
That's because Dennison Exterior Solutions & Gutter Topper as roofing contractors in Stevensville Michigan goes above and beyond to provide first-rate roofing solutions and gutter services to every client in the area.
With over 7,000 satisfied customers with over 100 5 Star customer ratings Dennison roofing and Gutter Topper is proud of their award winning achievements of consistently exceeding customer expectations with our LeakProof Roofing system that includes a 50 Year labor, material and shingle warranty backed by the manufacturer.
Dennison Exterior Solutions & Gutter Topper as roofing contractors in Stevensville Michigan was founded in 2003 in St. Joseph, Michigan. Our services extend throughout Southwest Michigan, Michiana and the Northwest area of Indiana. Our company has also been the proud recipient of the Chamber of Commerce's Silver Stakes award for outstanding business accomplishments throughout the community. Dennison Exterior Solutions as Roofing Contractors in Stevensville Michigan is proud that our unique products and installation methods creates a long-term asset that can be transferred to a new homeowner that over the long-term will save you tens of thousands of dollars by not having to replace your roof and gutter system every 15 to 25 years not to mention lowering your utility bills by saving you energy and even lowering your insurance costs. 
Dennison Exterior Solutions & Gutter Toppers promises to provide the finest products made in the USA, that are tailored to fit your home's unique needs at a price that will work with your budget.
When speaking with any Dennison contractor, they will also respectively explain the roofing and Gutter Topper process, so you'll never feel like you're in the dark about what kind of services you're getting and will always know when you can expect the project to be complete.
Dennison Exterior Solutions & Gutter Toppers installs a broad range of lifetime roofing systems, as well as high-end attic insulation, ventilation and with in-person inspections.
Additionally, if you are searching for a particular kind of roofing technology or service, feel free to contact Dennison Exterior Solutions & Gutter Toppers today.
Their team can help find the perfect solution for your property and guarantee the best products, best prices, and best customer experience.
Learn more about completing your gutter, roofing, windows, siding, insulation or other home improvement or repair project by giving the team at Dennison Exterior Solutions & Gutter Toppers a call today at 269-556-0495.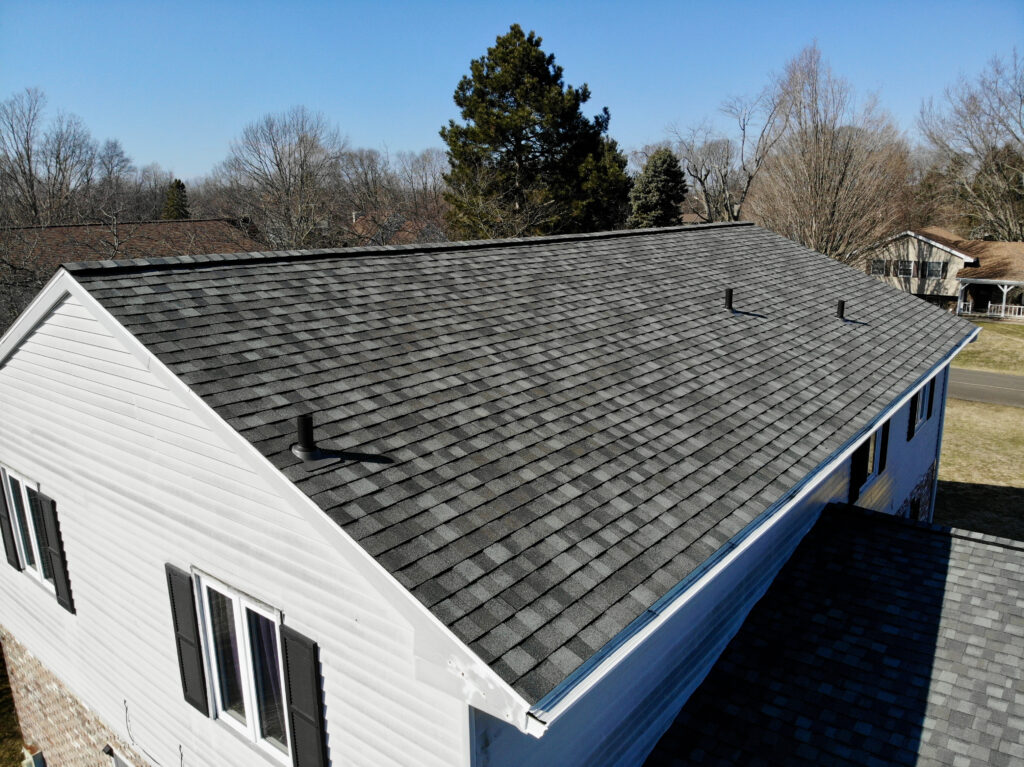 Read About Our Latest Installation
Testimonials
Sue Hafer

1845 North Donna Drive
Stevensville, MI 49127
Work Performed: Gutter Topper
After contacting several gutter guard company's Gutter Topper was by far the best product based on independent testing and customer reviews. I would give this product and company an all around A rating for price, quality, responsiveness, punctuality and professionalism.
Ryan Kuntz
Stevensville Michigan
Work Performed: New Roof
Dennison did a fine job on our roof. Scott was very informative in our meeting with him, which allowed us to make a decision that we were happy with. The roofers had to deal with some windy days during install, but the finished product looks great. I would recommend Dennison for anybody that has any questions about their roof.
L.T.
Stevensville Michigan
Work Performed: New Roof, Soffit & Fascia, Seamless Gutters and Gutter Topper
Dennison Exterior Solutions is the best! You won't find anyone better. Scott Dennison and his son are very professional, very thorough, very efficient, and very pleasant people to work with. I had three other companies come out for estimates. Two of the other companies did only rough measurements from the ground. All three of the other companies wrote up quick estimates on the spot in their cars. The difference between the other three companies and Scott Dennison's company was like night and day! Scott's son came out and got on the roof and took photos and made precise accurate measurements utilizing a GPS satellite system and looked into the attic. Then they scheduled a meeting with me. Scott Dennison came to the meeting with a professionally typed document that thoroughly defined issues, options, and costs. I was amazed and very impressed! He did not waste my time and was very patient and professional in answering any questions I had. I hired them. All communication for the project was through Scott via email. He was efficient and prompt in answering and addressing any questions I had. His crew contained a licensed carpenter and workers who are all Certainteed trained. Scott kept me informed regarding the schedule and timeline. They followed it to a T. My new roof, gutters, gutter topper, and soffits are beautiful. They completed the roof and heat reflector insulation in two days and the soffits, facia, gutters and topper in three days. They made sure nothing was exposed to weather during the process. He cares greatly about the quality of work by his company. Dennison Exterior Solutions is a company with integrity.
Steven H.,
Stevensville Michigan
Work Performed: Installed new seamless gutters and Gutter Topper
Thoughtful and thorough. Excellent quality, speed, and value for the money.
Kenneth C.,
Stevensville Michigan
Work Performed:  New Seamless Gutters and Needle Guard gutter covers
Dennison Exterior Solutions & Gutter Topper installed new seamless gutter and the Needle Guard gutter covers on our new pole barn – Great Job!
Jeff H.
Stevensville Michigan
Worked Performed: New Roof
After getting quotes from four other roofing companies for my 22-year old roof, it was easy for me to choose Dennison. His price was a little higher than others, but I could tell I was getting top-quality work that would be done right the first time.Scott was the only one who actually examined our roof from above as well as below. He went into our attic and examined the roof from underneath. He took pictures everywhere to document. He explained everything he was going to do clearly and why, even showing me formulas for ventilation to comply with the shingle company's guarantee, and provided a quote. Scott made sure I was aware of what was going on every step of the way by sending emails and requesting that I acknowledged receiving them. He was also quick to respond to questions I asked in my own emails. He made sure I was satisfied every step of the way. I'm not sure if that's his standard way of communicating, but it's certainly the way I prefer, so it worked extremely well for me. At the end of the job, he thoroughly inspected the work and took more pictures. He made sure to answer any final questions I had.