Since 1975, the Dennison family and Dennison Exterior Solutions & Gutter Topper has been serving the residents of Saint Joseph, Michigan with over 7,000 satisfied customers in the Michigan and Northern Indiana areas and has over 100 5 Star customer reviews. Dennison Exterior Solutions & Gutter Topper as roofing contractors in Saint Joseph Michigan was founded in 2003 in St. Joseph, Michigan. Our services extend throughout Southwest Michigan, Michiana and the Northwest area of Indiana. Our company has also been the proud recipient of the Chamber of Commerce's Silver Stakes award for outstanding business accomplishments throughout the community. Dennison Exterior Solutions as Roofing Contractors in Saint Joseph Michigan is proud that our unique products and installation methods creates a long-term asset that can be transferred to a new homeowner that over the long-term will save you tens of thousands of dollars by not having to replace your roof and gutter system every 15 to 25 years not to mention lowering your utility bills by saving you energy and even lowering your insurance costs. 
Regardless of what level of expertise the roofing project or gutter service entails, Dennison Exterior Solutions & Gutter Topper as roofing contractors in Saint Joseph Michigan is equipped with the necessary skills and experience to complete the service in an efficient and top-quality manner.
It takes being a family-owned and operated business to truly understand how to care for customers in the best way possible.
Perhaps that's why Dennison Exterior Solutions & Gutter Toppers maintains the reputation that it does. The owner, Scott Dennison, followed in the home improvement footsteps of his father, Bob.
Both father and son focused on customer satisfaction, which is how Dennison came to be what it is today – an unparalleled contracting service ready and willing to repair any exterior roofing and gutter issue.
When it comes to roofing, you will find a wide variety of lifetime warranty leakproof shingle designs, colors and qualities at your disposal when you work with Dennison Exterior Solutions & Gutter Toppers.
It's all about choosing the kind of resilient roof and gutter system that will work best for your home, and every member of their team can help you identify the best options for your home.
For more information regarding roofing, gutter toppers, siding, windows, home inspections or any of Dennison Exterior Solutions & Gutter Toppers' other solutions, give them a call today at 269-556-0495.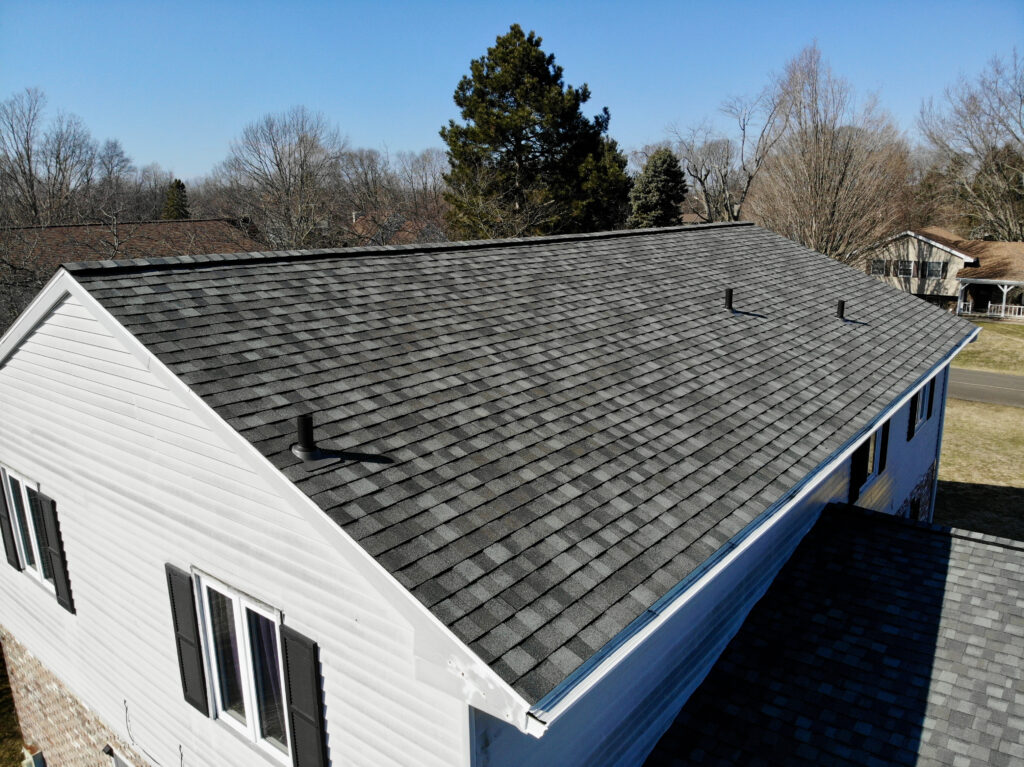 Read About Our Latest Installation
Testimonials
Michael Cukier – 3511 Wyndwicke Drive, St. Joseph MI 49085
Work Performed: New roof with Gutter Topper
Provided a new roof with Gutter Toppers. Required the removal and disposal of old roof, installation of new shingles and Gutter Toppers. Overall it went very well. The quote was not the lowest, nor was it the highest that I received. Before even getting this quote, Scott spent time inves- tigating the attic (for ventilation requirements) and inspecting and measuring the roof. He then made a second appointment to sit down with us and explain the proposal. He did a very thorough job of ex- planning the roofing materials he used, where he would put the winter guard ice and water shield on our particular layout, what ventilation requirement would support a full manufacturer's warranty etc. He was the only contractor we had that took that much time to explain everything that was needed and included before we talked price. We chose a medium cost shingle that we felt looked good, agreed on edging trim and Gutter Toppers colors. The firs morning of the work, we met with Scott and his crew chief to review what would be done that day, where to place the dumpster and other miscellaneous items. As it turned out, the edging color that was received did not match the home well. Scott had it returned and replaced, no issues. They did a really good job of cleaning up after themselves. I did not have to police the area to pick up for wrappers, soda cans or old roofing materials. There was some damage to the some of the plants in one garden but because of it size and location, they had to work right in the middle of it. The crew even stared late on the second day to get the job done. The gutter crew came by the following Monday and took care of all the gutter issues, cleaning any debris, straight- ening and install the Toppers. Scott met with that afternoon for a final review. As it stands right now the roof looks very good and we had no issues with Scott or his crew.
Dennis Ciboch
2147 Derfla Drive Saint Joseph, MI 49085
Work Performed: New Roof with Gutter Topper
Tore off old shingles and replaced with new. Replaced some plywood where needed. Added gutters and downspouts where needed. Added gutter toppers to all gutters.
Went great. Scott's crew did the things that Scott said he would do in his bid. The crew seemed very efficient, hard working and did a good job. They were there when they said they would be. They cleaned up well afterwards. Scott came by after they were done to inspect the job and check for how they picked up afterwards. I would highly recommend to anyone needing his services.
Heidi Sparkman,
1734 Matthew Court Saint Joseph MI 49085
Work Performed: New Roof and Siding Repair
The did a great job. We were delayed a little by weather but when the weather broke they came and did a complete roof replacement in a day and a half. I can't complain. I had a piece of siding that needed to be replace and they did that for no additional cost. He was very thorough on his inspection. Mr. Dennison went into and inspected the attic and the explained the ventilation changes that needed to be made for the roof, what he was going to do to improve the roof and why it would be now guaranteed for life. He also offered an annual inspection free of charge for five years. He was very comprehensive. He walked us through the entire process, why he was doing what he needed to do and how it would be a benefit for us.
Lowell Vick
3364 Wyndwicke Drive Saint Joseph MI 49085
Work Performed: New Roof and Gutter Cover Repairs
Replaced roofing – added insulation baffles – replaced ridge vents – and installed 5 new skylights. Scott Dennison's roofing and Gutter Topper is an excellent firm – based on customer service and quality work. Scott communicated very well as to what is included and as to the status of the job including weather delays. His crew was very friendly and were careful with protection our property. I would highly recommend this firm for your project.
Joe Fodo
Saint Joseph Michigan
Work Performed: Installed Gutter Topper
Installed Gutter Topper on my entire home. Cost was exactly the same as their estimate and have professional installers. This was a complicated job with many gables and challenges, nice work and Great Job!
Chris & Sandi Corbitt
Saint Joseph Michigan
Work Performed: New Roof, Insulation and Gutter Topper
Removal & replacement of Gutter Topper. Adding insulation to attic areas and removal of roof decking over cathedral ceiling to insert additional insulation and baffles for proper ventilation. Removed old roofing material and installed a new roof. Dumpster, supplies and shingles all delivered in a timely manner prior to the start of the project. Crew put up proper protection around windows and landscaping to prevent damage during the project. Crew was very efficient in removing old roofing in sections of home. All materials used were of high quality and installed as indicated in the original estimate. Upon completion of the new roof, rid and hip vents Gutter Topper was installed. Crew cleaned up debris and nails as promised. Scott Dennison is a very service oriented and I would recommend him to any of our friends.
Robert Neel
Saint Joseph Michigan
Work Performed: New Roof, seamless gutters
Complete roof removed down to deck. Small repair one spot on deck and new shingles installed, Edge vents installed on out edges of roof with five additional vents added to existing vents. Gutters were removed and new aluminum gutter were installed. Work was completed on time with the roof one day and gutters the next. Rained two days after installation and everything work great. Very, Very professional roofers.
Gary Proulx
1015 Field Drive, St. Joseph, MI 49085
Work Performed: Roofing
Scott was very quick to respond to our request for a quote after I sent him a picture of the problem. The quote was reasonable for a small job. Another roofer charged me 4 times this much for a similar small job. The repairs were completed in a timely manner and the cost was as quoted. I may need to replace the entire roof in the next few years and I will definitely give Scott a call.