For most people, buying a home is the largest investment they make in their lives. As such, it's essential to do what you can to maintain or even increase the value of your home.
One way to maintain the value of your home and to protect everything inside it is to take good care of your roof and gutter system. After all, the roof is the most important part of any home as it protects everything under it which is typically everything you own. Your roof and its condition goes a long, long way in determining the value and curb appeal of your home.
Since 1975, the Dennison family has been providing homeowners with exceptional roofing services. Dennison Exterior Solutions & Gutter Toppers as roofing contractors in Niles Michigan has over 7,000 satisfied customers and installs the areas only Leakproof Lifetime Warranty roofs and also features the #1 rated solid metal Gutter Topper system as designated by a leading consumer testing magazine. Dennison Exterior Solutions & Gutter Topper as roofing contractors in Niles Michigan was founded in 2003 in St. Joseph, Michigan. The Dennison family has been performing roofing and gutter services since 1975. Our services extend throughout Southwest Michigan, Michiana and the Northwest area of Indiana. Our company has also been the proud recipient of the Chamber of Commerce's Silver Stakes award for outstanding business accomplishments throughout the community. Dennison Exterior Solutions as Roofing Contractors in Niles Michigan is proud that our unique products and installation methods creates a long-term asset that can be transferred to a new homeowner that over the long-term will save you tens of thousands of dollars by not having to replace your roof and gutter system every 15 to 25 years not to mention lowering your utility bills by saving you energy and even lowering your insurance costs. 
In addition, our company specializes in installing new roofs for our homeowners from the finest materials. As a show of faith in the quality of work and products, we offer several warranties. Regardless of the roofing option you choose, your roof will improve the look and functionality of your home.
For more information, contact us today.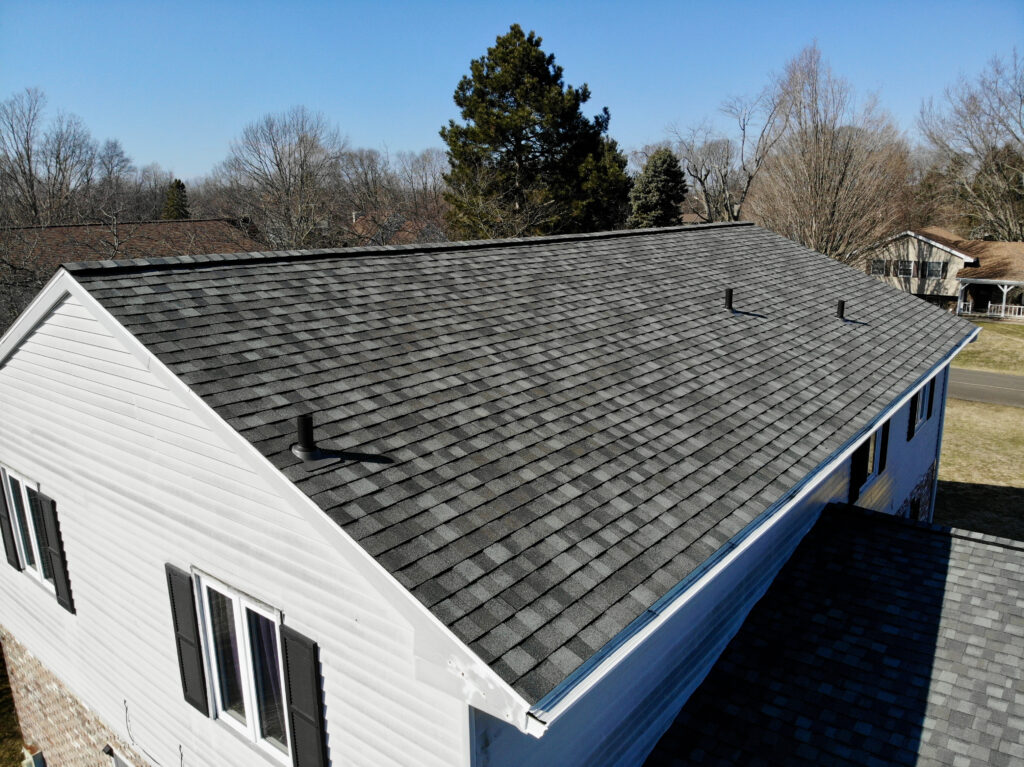 Read About Our Latest Installation
Testimonials
February 19, 2015 by Patrick W. Hickey Sr.
I provided Mr. Dennison with a wide variety of work list: 1) measure for, order, and install 4 sets of Simonton brand replacement windows in bedroom, bathroom and garage, 2) install garage passage door and lockset in garage, 3) remove three old satellite dishes from house and garage, 4) remove and replace roof shingles on portions of house and garage, 5) install seamless gutters and downspouts on house and one side of garage, 6) remove old 8″ wood siding and replace with matching 8-inch insulated vinyl siding on portions of house, 7) repair and/or replace wood fascia and soffit boards with aluminum cladded wood, 8) frame over what was exterior opening for whole-house fan, 9) wrap with aluminum material the wood trim around exterior windows and garage doors, and 10) install gutter guards to keep out leaves and debris.
I'm writing this review, utilizing emails between Mr. Dennison along with my notes taken while work was underway. What impresses me now even more than then is his communication efforts. This was evident from the time we first met in person in April 2015 to discuss the final scope of work to the final punchlist and payment in mid-June. Actually, we met initially the summer before to discuss replacement windows and siding. He took measurements, recorded them on his tablet, and worked up a quote. But since the house had just been bought, there were some items that I was unsure of or even possibly add.
Fortunately, when I had my act together in April 2015 and called Mr. Dennison to discuss the changes, he still had the original quote's electronic version so he was able to continue where he left off and provide me with a new quote, based on the changes.
There were many things I wanted done so I provided Mr. Dennison with a detailed list. This was crucial since I was off-site and out-of- town when all the work was done. Mr. Dennison and I communicated primarily by email, which worked better for both of us. He visited the work site at least twice weekly, inspecting work and taking photos, which he attached to his emails. If an issue came up, he was quick to take photos and dispatch them to me immediately.
As is common in house remodeling, one problem arose, in this case, rotted roof underlayment and fascia. Mr. Dennison took photos of the problem area so I could see for myself. I had anticipated things like this so I approved an additional $175.00 to cover this repair along with some additional wrapping work. The complete project took roughly two weeks to complete, a few days longer than what he had estimated, but the delays were due to rain. All materials remnants were removed and site was cleaned.
Really, there were few issues with the project, with work rendered as laid out in the contract, using quality materials and workmanship. This is significant for me, since my experiences in the past with nearly every builder, plumber, or electrician have been mediocre or stressful. My expectations were completely met. I'd have to describe the guttering's appearance as almost "elegant". Other than some nails I found in the driveway, the work site was cleaned up when I arrived in mid-June. Mr. Dennison has assured me that his crew would return to address any concerns I had, asking me to write up a punch list. True to his word, he sent Harvey, crew leader, to explain a few questions I had, make a few adjustments, and remove the third satellite dish, which was initially overlooked.
I appreciated the little things that he and his crew did: holding onto the old passage door hardware and lockset; old downspouts I requested he leave on-site; taking as much care with aluminum wrapping on the non-visible garage areas as the crew did with the house (absolutely no shortcuts); responding quickly by phone or email any questions or concerns I had; and showing perseverance when having to try out three different garage passage doors due to the unusual dimensions of the rough opening.
My only concern with Mr. Dennison was that he was TOO considerate. I didn't think about installing gutter guards when we initially met, and Mr. Dennison didn't bring it up either. It dawned on me after work was completed that I needed gutter guards to keep leaves and debris out so I called him to quote me a price for this. The quote was a fair price so I told him to proceed with installation, which his firm did about a week or so later. I asked him why he didn't bring up the gutter guards initially and his response was that since my job list was so long to begin with, he didn't want to "pile-on" an additional cost. My advice to whoever reads this: Mr. Dennison's prices are fair to begin with, so if possible do let him know what you want and need. And after you've presented your list to him, DO ask him if there's anything else that would be useful or necessary to add at the same time.
Because of the good experience I've had with Dennison Exterior Solutions, I plan to use them again soon for "Phase 2", which will involve installing siding on remainder of the house, some additional guttering, possible window replacement, and front porch reconfiguration.
Finally, here's a few lines from the final email I sent to Mr. Dennison in 2015: "I'd like to thank you for your can-do attitude that you've had since we first met last summer. That's the #1 reason that I chose your firm and did not even solicit other bids. That is a first in my many years!"