Read About Our Latest Installation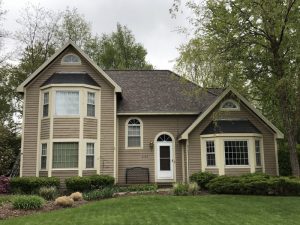 It happens to every homeowner. Your gutters get clogged with debris and water and then overflow, ruining your beautiful landscaping, causing damage to your roof or the gutters themselves, or prematurely wearing out and aging your wooden deck. In winter, the problem is even worse, with snow and ice melt creating ice dams that can degrade and destroy your roof shingles and put additional weight and strain on gutters and roof ledges.
While climbing a wobbly ladder and pulling the slimy gunk out of the gutters yourself isn't exactly your dream weekend activity, there is a solution – Gutter Toppers from Dennison Exterior Solutions.
Dennison Exterior Solutions & Gutter Topper provides professional, expert service cleaning and repairs for existing gutters to get your Valparaiso home ready for fall and winter. They also install the top-rated Gutter Topper, a maintenance-free gutter protection system that has passed independent testing for preventing debris infiltration, rain, wind and heavy snow loads.
Gutter Toppers have been tested by PRI Asphalt Technologies of Florida, showing that these gutter protection systems can handle anything that Mother Nature may bring. In fact, testing showed the Gutter Toppers could handle extremes like 110 mph sustained winds and rainfall of 22 inches per hour – nearly impossible conditions.
Since 1975, Dennison Exterior Solutions & Gutter Topper has been helping homeowners in Valparaiso and cities and towns throughout northwest Indiana and Michigan deal with their clogged gutters. So what are you waiting for? Join a long list of satisfied customers and let a professional deal with your clogged gutters and help you prevent the problem from occurring in the future.
To schedule an appointment to have your gutter inspected and to receive a free estimate and demonstration of the Gutter Topper at your Valparaiso home, call Dennison Exterior Solutions & Gutter Topper at 269-556-0495.