Dennison Exterior Solutions & Gutter Topper as roofing contractors in South Bend Indiana has been serving customers in the Michiana areas since 1975 and has over 7,000 satisfied customers with over 100 5 Star customer reviews and has installed tens of thousands of feet of seamless gutters, Gutter Toppers including thousands of squares of shingles. As roofing contractors in South Bend our 5 Star and "A" ratings by our customers prove that our goal of using products made and manufactured in the USA along with our customer service greatly exceeds our competition. Dennison Exterior Solutions as Roofing Contractors in South Bend Indiana is proud that our unique products and installation methods creates a long-term asset that can be transferred to a new homeowner that over the long-term will save you tens of thousands of dollars by not having to replace your roof and gutter system every 15 to 25 years not to mention lowering your utility bills by saving you energy and even lowering your insurance costs. 
All of our Free Estimates are customized to meet your goals, exceed manufacturer's and building code requirements in order to save money, energy, protect your health and to protect everything that you own under your roof. Click the red Free Estimate tab to request a customized proposal.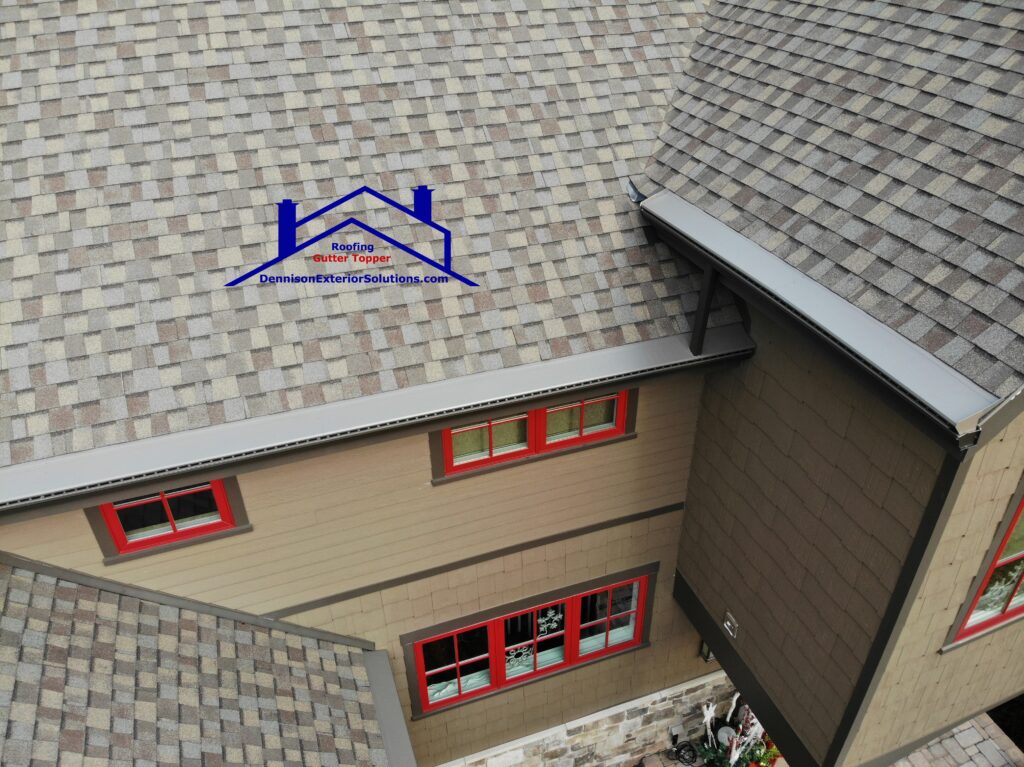 Take a look at your roof. Do you see ugly dark gray and black stains on your roof shingles? Are granules from the shingles draining out of the downspouts from your gutter system? Now take a glance down at your yard. Do you see any unsightly pieces of shingles?
If you answered yes to any of these questions, don't hesitate – contact Dennison Exterior Solutions Roofing Contractors in South Bend, Indiana.
If it's time to repair or replace the roof at your home in South Bend, Indiana, you couldn't choose a better roofing contractor. A family-owned business, Dennison Exterior Solutions & Gutter Topper is committed to providing professional, caring customer service to all clients – and at a fair price. They only use products made and manufactured in the United States, and work to ensure that your roof is protected and ready for whatever rain, snow, sleet or hail the four seasons throw at it.
Dennison also offers Gutter Toppers, an innovative way to help protect your roof's drainage. By protecting gutters from accumulating leaves, twigs and other debris, you can rest assured that your gutters are clean and clear, allowing moisture to travel away from your South Bend home and keeping your roof protected from damage.
Since 1975, Dennison has been the top roofing contractor in northwest Indiana and Michigan and no other company in the area holds as many certifications or has as much experience upgrading, inspecting, repairing and replacing roofing and roofing systems like ventilation, insulation systems, gutters and much more.
Find out more about Dennison Exterior Solutions & Gutter Toppers' full range of roofing services for your South Bend home by calling 574-307-5010.
Read About Our Latest Installation