Dennison Exterior Solutions Gutter Contractors in La Porte Indiana
Gutter Topper is the ONLY Gutter Protection System on the Market Today that has PASSED 2 Independent Tests for Wind, Rain, Debris Infiltration and can handle Heavy Snow/Ice Load and to Be Rated the #1 Solid Metal Gutter Cover by a leading Consumer Testing Magazine!
The most difficult chore for any homeowner is making sure your gutters are clean and free of debris so that the rainwater can drain through your seamless gutter system. Many homeowners do not have the time to maintain their gutter system in which in the Spring Mother Nature continuously drops the remaining leaves from the previous fall, new buds, seeds and flowers while some trees shed leaves throughout the growing season.  In the fall she is back at it dropping leaves 24/7.  This process never stops and requires homeowners to climb precarious ladders an average of three to four times a year putting their health and safety at risk and or their loved-ones.
Fortunately, there is an affordable solution that is far cheaper than a trip to the hospital or the time and effort it takes to clean your gutters multiple times every year when that precious time could be spent with your feet safely on the ground enjoying many other important leisure activities. At Dennison Exterior Solutions & Gutter Toppers we are gutter contractors who have been serving and installing the Gutter Topper gutter protection system in the La Porte, and Northwest Indiana areas since 1975 with over 7,000 installations.
Research proves that Gutter Topper is the only gutter cover that has withstood rigorous testing from PRI Asphalt Technologies an independent testing facility located in Dade County Florida who specializes in testing exterior building products.  Gutter Topper gutter covers were found to handle any debris Mother Nature could throw at it, handle 22 inches of rain per hour, 110 mph sustained winds and handle the heaviest snow loads with weight bearing capabilities of 1,200 pounds per square foot.  Another leading consumer magazine rated Gutter Topper gutter guards as the number one solid metal gutter cover on the market.
Dennison Exterior Solutions & Gutter Toppers employ the only technicians who have been trained and certified to install the Gutter Topper gutter protection system that is also made and manufactured in the USA.  The Gutter Topper system includes a lifetime transferable warranty that guarantees to prevent any internal clogs during the life of the product.
Please fill out the form on the right side of this page to request us to schedule an appointment to inspect, measure and provide you with a free demonstration and estimate of our product.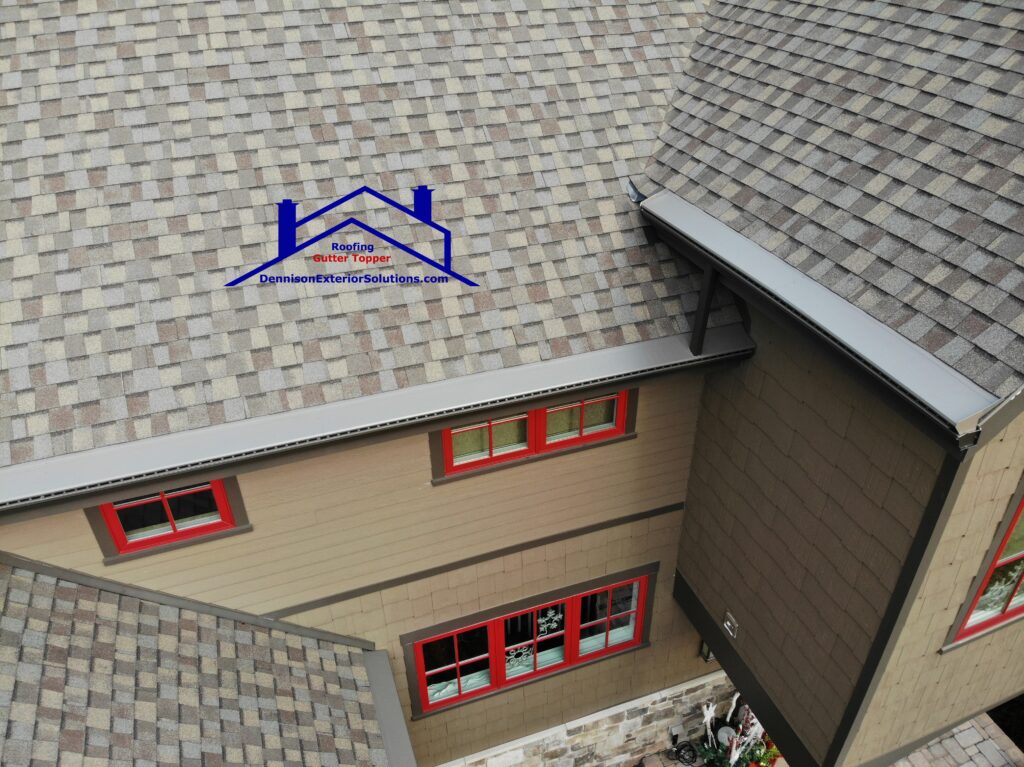 Read About Our Latest Installation
Testimonials
We had Gutter Toppers installed on our home in 2007 and have been very happy with the results.
This December (2014) they installed Gutter Topper and NO MORE ice dams. After last years problems with dams, I made the right call.
Thanks to Scott and his team of Pros.
George Girton
Chesterton Indiana
Dennison Exterior Solutions & Gutter Toppers had to remove the Gutter Topper which had been previously installed several years ago in order to protect the manufacturers warranty prior to installing our new roof.
The Roof was replaced in two days time and after they finished they reinstalled our Gutter Topper.
Overall I was very satisfied.
Caryl Kugler
Chesterton Indiana
Dennison Exterior Solutions & Gutter Toppers installed Gutter Toppers on our home. The work went very well and we are satisfied.
Henry Studebaker
Chesterton Indiana
The Gutter Topper representative inspected our gutter system and determined that our seamless gutter only needed to be tuned up prior to install their system. The certified installers cleaned out and installed the Gutter Toppers on all gutters. The owner spoke with my wife and I about the job and his men showed up on time and completed their work. Yes, we would hire them again.
Jason Wos
Crown Pointe